UZZ32 Information
Jump to navigation
Jump to search
The UZZ32 "active" Soarer, produced by Toyota for the Japanese market from 1991 to 1996, features computer-controlled hydraulic suspension and active four-wheel steering.
In other regards, the UZZ32 model shares many similarities with the other Toyota V8 Soarers (UZZ30 and UZZ31 models), as well as the left-hand drive Lexus SC400 of the era.
How common are they?
As only 872 UZZ32 Soarers were produced over some six years, these vehicles are now becoming increasingly rare.
What is the build number?
To determine the "build number", just check the Build Plate, where the last three digits of the Frame Number (which should start with UZZ32) will be a number from 001 to 872. The build number can also be used to look up the year and month of manufacture.
How to recognize a UZZ32 active Soarer
The UZZ32 active Soarer looks, externally and internally, very similar to other Soarers, though there are clues for How to recognize a UZZ32 active Soarer.
Where are they found?
Of the "known" vehicles, the majority are located in Australia and Great Britain, with others appearing in eg New Zealand as well as their native Japan. Since these vehicles were only produced in right-hand-drive form, they are generally not found in North America or (continental) Europe, though there are exceptions, including at least one vehicle in Norway and one in Canada.
Many of the 872 vehicles are "yet to be located", while others are known to have been wrecked and/or dismantled. The UZZ32 Registry is used to capture details, including eg locations and specifications of the known vehicles. As of February 2023, the UZZ32 Registry contains details of approximately 160 UZZ32 Soarers.
UZZ32 Features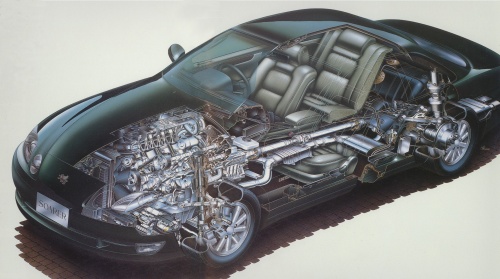 The UZZ32 has many impressive standard features including active suspension, as well as a number of manufacturer's optional features including eg Reversing Camera, Sunroof, LSD. Some of these features (eg the sunroof) were not available on initial release, whereas others (eg the second windscreen washer bottle) were removed over time.
Maintenance & Repairs
Although Toyota designed the UZZ32 to high quality standards, UZZ32 Maintenance and Repair is still necessary. Like any motor vehicle, they require basic regular servicing (including items such as, eg, new oil and oil filter). There are also service tasks that are more specific to Soarers in general (including sagging door hinges on older vehicles). Finally, there are service items that apply only to the UZZ32 Soarer (eg the suspension pump etc). Non-standard "improvements" by previous owners may also need to be revisited.
Knowledge of the meaning of the various (Japanese) warning messages on the dash, as well as how to perform system diagnostics and decode the various error codes is also highly recommended